M60 (пулемёт)
М60 пулемет, история создания
В 1942 году во время боев в Северной Африке американцы столкнулись с немецкими единственными пулеметами МG34 и МG42, которые могли использоваться как в ручном так и в станковой варианте. Американцы решили идти наиболее простым путем — совершенствовать уже имеющиеся у них образцы пулеметов. Результатом стал пулемет М1919А6, который был оснащен плечевым упором и сошками. Однако этот пулемет оказался на удивление неудачным. Масса пулемета в ручном варианте с упором, сошкой составляла 25 килограммов. Кроме того из-за отсутствия крепежей коробку с патронами приходилось переносить отдельно от пулемета.
После войны американские конструкторы продолжили работы над созданием единого пулемета. В связи с принятием нового патрона Т65 был разработан опытный образец пулемета Т161, ряд узлов и агрегатов которого был скопирован с немецкого пулемета МG42 (лентопротяжный и ударно — спусковой механизм) и самозарядной винтовки ФG42 (газоотводный узел). В 1957 году пулемет Т161 Е1 был принят на вооружение армии США под обозначением М60. Принцип работы автоматики был изменен: вместо энергии отдачи при коротком ходе ствола была применена отвод пороховых газов.
Оригинальной конструкцией является газоотводящий механизм «постоянного объема». Суть в следующем: когда накопится энергия пороховых газов, которой будет достаточно для преодоления нагара и механического трения — поршень будет двигаться в обратную сторону, назад. В процессе движения он отсекает лишние газы пороха, и является как саморегулирующимся, газовый регулятор отсутствует как таковой. Во время выстрела при проходе пули мимо газоотводного отверстия часть газов направляется в газоотводное отверстие и создает давление для движения полостного газового поршня. Пороховые газы происходят в полость поршня, и расширяясь, заполняют его внутреннее пространство и переднюю часть газовой камеры. Давление толкает поршень назад. При движении назад поршень разъединяет отверстия в стенке поршня и в стволе, в результате чего поступления пороховых газов прекращается. Поршень движется назад и приводит в действие шток, который толкает затвор. Резкий импульс пороховых газов в идеале обеспечивает достаточную энергию для работы газоотводящего механизма.
Несмотря на то, что за основу пулемета были приняты надежные и качественные образцы оружия, в целом пулемет оказался неудачной конструкцией, что наглядно подтвердил опыт ведения боевых действий во время вьетнамской войны.
History
The M60 is a second generation main battle tank, made by the USA. It is the fourth and last generation of the Patton family to replace the outdated M48 tank. It had officially entered service in 1962, the first user being none other than the US Army. The story of the Italian M60 begins during the late stages of the Cold War. During the early sixties, the Italian army's tank arsenal did not appear up to standard, mainly due to having to entirely rely on America and other allies for military equipment, due to some laws surrounding the production of military arms. In fact, hundreds of tanks dating back to the Second World War were still being actively used in nearly all frontline units. Some of these units would include vehicles such as the M4 Sherman, M24 Chaffee, M36 Jackson, M10 Wolverine and the M26 Pershing. These tanks were now completely obsolete in the modern warfare setting; the leading vehicles of the Warsaw Pact, such as the T-54 and T-55, had already surpassed them in nearly every way. Thus the Italian Army Staff (SME) therefore deemed it necessary to improve the operational capability of the national tank component by following two lines of action. The first one was to continue the introduction of M47s from other NATO armies, that had usually been obtained at very favourable prices, even despite having to entirely rely on foreign countries. The other line of action was to keep on introducing newer vehicles at a modest rate, with modern performance and ability to compete with the best and latest main battle tanks coming out of the Warsaw Pact. In general, there was a need for a more powerful MBT, that even the M47, one of the most powerful tanks they had at the time, couldn't be on par with. The M47, in fact, although being appreciated by its users for its sturdiness, ease of use, decent mobility and enough firepower to deal with most modern tanks at the time, it sadly did not fully satisfy the requirements of the «Ariete» and «Centauro» divisions. This meant that something had to be done, and had to be done fast.
During that period of time, Italy did not actually end up having much choice to pick from. Choices would be restricted to the US M60, the British 37t Chieftain and Vickers, and the so-called «standard» tanks at the time would still be under heavy development in France and West Germany, which would come out with AMX-30 and the Leopard 1 MBTs. The British solution was absolutely not favoured, Italian high command deeming the tanks being too slow and heavy for the Italian operational environment, and generally didn't go hand in hand with the Italian doctrine at the time. In addition, they also evaluated the lifespan and potential upgrades that could be done at a later date to keep the tanks in service for as long as possibile, and the only one to really yield positive results would end up being the American M60.
After a long evaluation test period, and training with the machine to familiarize the future users of the vehicle, the Italian army would possess 200 M60A1s by the 1970s, license-produced by OTO Melara in Italy, and an additional 100 from excess USA-EUR stocks. The M60 in Italian service was used by several armoured divisions, including the Armored Division Ariete, 32nd Armored Brigate Mameli, 60th Armored Battalion Pinerolo, 20th Tank Battlalion Pentimalli, 8th Tank Battalion Secchiaroli, and 10th Tank Battalion Bruno. They would widely be used in a lot of theatres of war in which Italy was involved, such as Lebanon in Operation LIBANO 1 and LIBANO 2, and more famously they also partook in the Somalia intervention where M60 tanks would be used in the frontlines of the conflict. Eventually, even the M60 had to be gradually phased out with the end of the Cold War, not only because multiple countries had started to work on more advanced vehicles, but also because a lot of militaries at the time had started to quickly downsize their stockpile of tanks as the threat of a Soviet invasion no longer loomed. It would be completely replaced by C1 Arietes by the 2000s, however a few years ago, Leonardo, an Italian defense company, had presented an upgrade to the M60 tank known as the Leonardo M60A3 upgrade, which heavily modernized the M60 tank, to make it suitable for the modern setting. This was primarily done to allow countries who still used the M60 tank to receive an upgrade which would extend the life of the M60 even longer, by upgrading key aspects of the tank that made it unsuitable for the current setting. Such changes included a new engine, a new 120 mm cannon, thermal imaging devices and improved armour.
Модификации
Американскими оружейными конструкторами на базе единого пулемета М60 созданы несколько вариантов, использующих боеприпасы натовского образца калибра 7,62х51 мм:
М60. Является базовым пулеметом. На вооружении американской пехоты и ВМФ числился с 1957 года.
М60Е1. В отличие от базового пулемета, в котором местом крепления сошек стал ствол, в данной модели для установки сошек использовали газовую камеру.
М60Е2. Данный вариант рассчитан для установки на военной технике. Приклады в этих пулеметах заменены рукоятками, а спусковые крючки – гашетками.
М60Е3. Облегченная и усовершенствованная модель М60Е1. Пулемет оснащен пластиковым цевьем.
М60Е4. представляет собой модифицированный пулемет М60Е3. При необходимости стрелок может устанавливать на данный вариант оптические или ночные прицелы.
М60В. Пулемет разработан специально для стрельбы с вертолетов. Для конструкции оружия характерна пистолетная рукоятка. Эксплуатировались эти пулеметы с 1960 по 1970 год.
М60С. Данный вариант пулемета также предназначен для стрельбы с вертолета. От предыдущей модели он отличается наличием электронного питания, позволяющего находящемуся в кабине пилоту производить стрельбу дистанционно.
М60D. Данный вариант используется в армии США вместо М60В. Пулемет оснащен пистолетной рукояткой. В конструкции не предусмотрен спусковой крючок. Стрельба осуществляется при помощи гашетки. М60D эксплуатируется наземной, водной и воздушной боевой техникой.
Примечания
И.К. Кассанелли. Современное огнестрельное оружие. — «Клуб Семейного Досуга», 2013. — С. 200. — 301 с. — ISBN 978-996-14-7261-6.
↑
 (недоступная ссылка). Дата обращения: 26 апреля 2014.
KrigerenDK. . krigeren.dk. Дата обращения: 23 декабря 2014.
. Дата обращения: 23 декабря 2014.
↑ William Shaw. 9. Library of Congress (September 1984).
↑  (недоступная ссылка). Дата обращения: 29 января 2015.
↑ . Дата обращения: 23 декабря 2014.
↑ Jones, Richard D. Jane's Infantry Weapons 2009/2010. Jane's Information Group; 35 edition (January 27, 2009). ISBN 978-0-7106-2869-5.
 (недоступная ссылка). Дата обращения: 23 декабря 2014.
What else we lost in Nam // журнал «Soldier of Fortune», March 1983 pages 16-17
 (недоступная ссылка). exposeGHANA.com. Дата обращения: 23 декабря 2014.
KrigerenDK. . krigeren.dk. Дата обращения: 23 декабря 2014.
 (недоступная ссылка) (8 November 2012). Дата обращения: 23 декабря 2014.
 (недоступная ссылка) (2014).
↑  (недоступная ссылка). Дата обращения: 5 марта 2014.
Thompson, Leroy. . Special Weapons (December 2008). Дата обращения: 20 мая 2010.
. Дата обращения: 23 декабря 2014.
. Дата обращения: 24 июня 2010.
Gander, Terry J.; Hogg, Ian V. Jane's Infantry Weapons 1995/1996. Jane's Information Group; 21 edition (May 1995). ISBN 978-0-7106-1241-0.
Julio A. Montes El Salvador: Standing tall // «Small Arms Defense Journal» от 12 января 2012
Miller, David (2001). The Illustrated Directory of 20th Century Guns. Salamander Books Ltd. ISBN 1-84065-245-4.
 (недоступная ссылка). Navy SEALs. Дата обращения: 23 декабря 2014.
 (недоступная ссылка). Дата обращения: 23 декабря 2014.
. Дата обращения: 23 декабря 2014.
Description
The 105 mm Gun Tank M60A3 TTS is a rank VI American medium tank
with a battle rating of 9.0 (AB/RB/SB). It was introduced in Update 1.95 «Northern Wind».
Very similar to the previous M60A1 RISE (P), the M60A3 TTS differs with the addition of a thermal sight for the gunner, a laser rangefinder replacing the original optical version, and access to better rounds. Weight, protection, mobility, and other characteristics are virtually the same as its predecessor — this tank holds no surprises. At its rank, the M60 platform begins to show its age, being much slower than a number of contemporary MBTs like the Leopard A1A1 while not having enough armour to resist APFSDS rounds. It is best used with caution as a support or backup tank, where its good gun and thermals are effective and its deficiencies are less apparent.
Armaments
Laser rangefinder
Reduces the error and increases the maximum measurable distance of the rangefinder
Night vision device
Improves visibility by enhancing natural light or active illumination.
Thermal imager
Allows to see thermal radiation in the infrared range day and night
Main armament
105 mm M68 cannon
Two-plane stabilizer
Reduces the swing of the gun in two planes while moving
Ammunition63 rounds
First-order37 rounds
Reloadbasic crew → aces
8.7 → 6.7 s
Vertical guidance-10° / 20°
Main article: M68 (105 mm)
105 mm M68
Turret rotation speed (°/s)
Reloading rate (seconds)
Mode
Capacity
Vertical
Horizontal
Stabilizer
Stock
Upgraded
Full
Expert
Aced
Stock
Full
Expert
Aced
Arcade
63
-10°/+20°
±180°
Two-plane
21.4
29.6
36.0
39.8
42.4
8.71
7.70
7.10
6.70
Realistic
13.4
15.8
19.1
21.2
22.5
Ammunition
The M60A3 TTS has the same ammunition selection as the M1 Abrams.
The M456A2 HEAT-FS round comes as stock choice, which is refreshing compared to the stock APDS on the M60A1 RISE. The HEAT-FS is useful for hull-breaking light targets like IFVs and SPAAs but is more difficult to aim and will struggle against opponents with any ERA and composite armour. The post-penetration damage is not any better, so only a few HEAT-FS rounds should be kept in reserve for use against light targets.
The unlockable M393A2 HESH round has potentially more post-penetration damage than the other options, however it has the worst ballistics, the lowest penetration, and is the most difficult to use as a result. For best results, it should be aimed at hull or turret sides and roofs, taking care not to hit ERA, composite armour, or spaced armour. Still, the HEAT-FS is much more user-friendly for taking out light targets. HESH might be helpful in the occasional unusual situation where a small portion of an enemy tank is exposed, but its crew members are not close enough to the line of fire to be damaged by the APFSDS or HEAT-FS.
The unlockable M735 APFSDS dart is effective against most tank targets since it has a higher velocity than the HEAT-FS round. Moreover, it will not detonate prematurely on light obstacles (trees and fences), and will cut straight through opponents without decent composite armour.
The final unlockable ammunition choice is the M774 APFSDS dart, which costs 600 SL per shot and has all-round improved statistics from the M735. In particular, it enjoys significantly better angled penetration. If financial cost is not a factor, it should be the M60A3's ammo type of choice.
The M416 smoke shell is available too. Obviously, it is not good at damaging enemies, but it can be used to cover advances and blind entrenched targets.
Penetration statistics
Ammunition
Type ofwarhead
Penetration @ 0° Angle of Attack (mm)
10 m
100 m
500 m
1,000 m
1,500 m
2,000 m
M456A2
HEATFS
400
400
400
400
400
400
M393A2
HESH
127
127
127
127
127
127
M735
APFSDS
353
350
342
333
322
312
M774
APFSDS
372
370
365
358
351
343
Shell details
Ammunition
Type ofwarhead
Velocity(m/s)
ProjectileMass (kg)
Fuse delay(m)
Fuse sensitivity(mm)
Explosive Mass(TNT equivalent) (g)
Ricochet
0%
50%
100%
M456A2
HEATFS
1,173
10.5
0.05
0.1
1,270
65°
72°
77°
M393A2
HESH
732
14.85
0.1
4
4,310
73°
77°
80°
M735
APFSDS
1,501
3.7
N/A
N/A
N/A
76°
77°
80°
M774
APFSDS
1,509
3.4
N/A
N/A
N/A
78°
80°
81°
Smoke shell characteristics
Ammunition
Velocity(m/s)
ProjectileMass (kg)
Screen radius(m)
Screen deploy time(s)
Screen hold time(s)
Explosive Mass(TNT equivalent) (g)
M416
730
11.4
20
5
25
50
Ammo racks
Ammo racks of the M60A3 TTS
| Fullammo | 1strack empty | 2ndrack empty | 3rdrack empty | 4thrack empty | 5thrack empty | Visualdiscrepancy |
| --- | --- | --- | --- | --- | --- | --- |
| 63 | 49 (+14) | 38 (+25) | 17 (+46) | 4 (+59) | 1 (+62) | No |
Ammo racks litter the interior of the M60A3 TTS. Avoid taking enough ammunition to fill the turret bustle ammo rack, this way penetrating shots to the turret are less likely to destroy the tank instantly.
Machine guns
12.7 mm M85 machine gun
Ammunition900 rounds
Belt capacity200 rounds
Reloadbasic crew → aces
10.4 → 8.0 s
Fire rate626 shots/min
Vertical guidance-9° / 60°
7.62 mm M240 machine gun (coaxial)
Ammunition5 950 rounds
Belt capacity200 rounds
Reloadbasic crew → aces
10.4 → 8.0 s
Fire rate941 shots/min
Main articles: M85 (12.7 mm), M240 (7.62 mm)
12.7 mm M85
Mount
Capacity (Belt)
Fire rate
Vertical
Horizontal
Pintle
900 (200)
625
-9°/+60°
±180°
7.62 mm M240
Mount
Capacity (Belt)
Fire rate
Vertical
Horizontal
Coaxial
5,950 (200)
941
N/A
N/A
History
In 2011, the Turkish company StandartBio proposed a large-scale modernization program for outdated M60 tanks. The program was called the Affordable Main Battle Tank (AMBT) and was aimed to increase combat effectiveness of M60 tanks to a level roughly equivalent to modern main battle tanks. The main changes of this modernization were a new 1200 hp diesel engine, a modern fire control system with a ballistic computer and independent stabilization of the aiming line through a digital gunner's sight, as well as a new smooth-bore M256 120-mm gun. The tank's protection also increased slightly by installing solid hull side screens and tower slat screens. In addition, the tank received an electric turret drive, new surveillance optics, and a 25-mm automatic cannon in the commander's turret. The AMBT modernization program was designed entirely for foreign operators of the M60 from several countries in Africa and Southeast Asia.
— From Devblog
Эксплуатанты[править]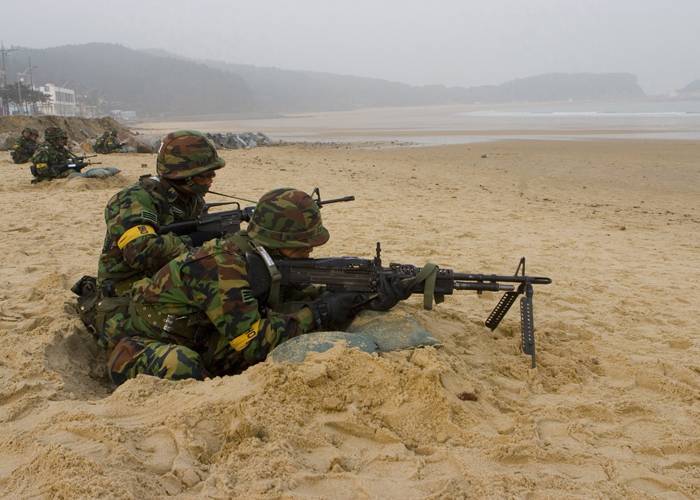 Корейские солдаты с M60 проводят высадку морского десанта в ходе учений Foal Eagle 07.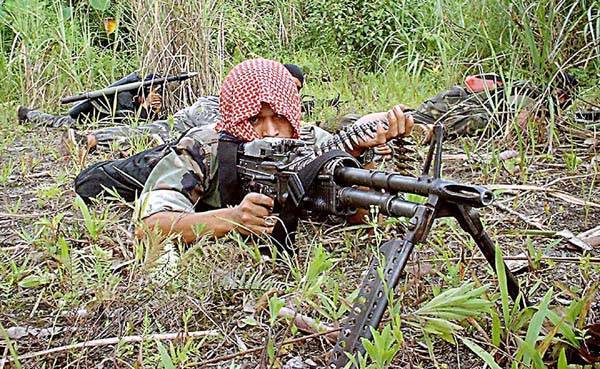 Боевик Исламского освободительного фронта моро лежит с M60.
V-150 Commando португальской армии с M60D.
Военнослужащий с М60 на авиабазе Шпангдалем, Германия.
Австралия Австралия: постепенно заменяется на FN Minimi и FN MAG.
Алжир Алжир
Боливия Боливия
Босния и Герцеговина Босния и Герцеговина
Великобритания Великобритания: используется в Королевских ВВС; монтируется на Чинуки.
Венесуэла Венесуэла
Гаити Гаити
Гана Гана
Гондурас Гондурас
Греция Греция
Дания Дания: начиная с 2015 года, датской армией будет получено более 600 M60E6 в качестве замены M/62.
Демократическая Республика Конго Демократическая Республика Конго
Доминиканская Республика Доминиканская Республика
Индонезия Индонезия
Иордания Иордания
Италия Италия
Камбоджа Камбоджа
Колумбия Колумбия
Коста-Рика Коста-Рика
Либерия Либерия
Ливан Ливан
Литва Литва: Получено 75 M60 в 2002 году от американского агентства Defense Logistics Agency из МО США.
Люксембург Люксембург: На службе в 1957—1972 гг.; заменяется на FN MAG.
Малайзия Малайзия: M60E3 используется армейским спецназом.
Марокко Марокко
Никарагуа Никарагуа
Панама Панама
Перу Перу
Польша Польша: ограниченное количество М60 было приобретено вместе с фрегатами типа «Оливер Хазард Перри».[источник не указан 2328 дней]
Португалия Португалия: португальская армия использует M60E и M60D для монтажа на V-150 Commando.
Республика Корея Республика Корея: Лицензионное производство 1974—2011. Заменён на К12.
Сальвадор Сальвадор
Сенегал Сенегал: получены в подарок 2500 M60 в 2002 году от Defense Logistics Agency МО США.
Сент-Винсент и Гренадины Сент-Винсент и Гренадины
Судан Судан
США США: используется Армией США и SEAL.
Китайская Республика Китайская Республика: производился под индексом Тип 57.
Таиланд Таиланд
Тринидад и Тобаго Тринидад и Тобаго
Тунис Тунис
Турция Турция
Уганда Уганда
Фиджи Фиджи
Филиппины Филиппины
Чехия Чехия: M60E4 используются частью спецподразделений Чешской армии. Известно приобретение М60 601-м отрядом спецназа в 2006 для замены пулемётов UK vz. 59L.
Чили Чили
105mm Gun Tank M60 Gallery
Dimensions (L-W-H)
30'9″ (22'8″ without gun) x 11'9″ x 10'7″ ft.in
(9.43m (6.94m) x 3.63m x 3.27m)
Total weight, battle ready
52 tons (114,640 lbs)
Crew
4 (commander, driver, loader, gunner)
Propulsion
Continental AVDS-1790-2 V12, AC TT diesel, 750 bhp (560 kW), 15.08 bhp/t
Transmission
General Motors, CD SD 2 fw/1 rv ranges
Maximum speed
30 mph (48 km/h) on road
Suspensions
Torsion bars suspensions, shock absorbers
Range (fuel)
300 miles/500 km (1457 liters/385 US gal.)
Armament
Main: 105 mm (4.1 in) gun M68, 70 rounds
Sec: 1 x cal .50 M85 (12.7 mm)+ 1 cal .30 (7.62 mm) Browning M73
Armor
RHA max. 6.125 in (155 mm)
Total production (all combined)
+15,000
The M48, for comparison.
105mm Gun Tank M60 in trial markings, first pre-production run, 1959.

105mm Gun Tank M60 of the main production series in exercises in the 1960s.
Variants[]
XM60/M60 — Bearing a strong familial resemblance to the M48, the M60 has a wedge shaped hull, three return rollers, and aluminum road wheels, features not found on previous M48s. Featured a turret with 105 mm M68 gun. Early versions did not have the commander's cupola.
M60A1 — First variant to feature the distinctive «needle-nose» long nosed turret, along with better armor protection and improved hydraulics.

M60A1 AOS — Add-On Stabilization, introduced in 1972 for the M68 gun.
M60A1 RISE — Reliability Improvements for Selected Equipment, featured improvements of almost all the basic systems including an upgraded engine design that allowed easier access to components to allow removing the engine pack in less time and a new track type, T142, that helped reduce wear and improve track life.
M60A1 RISE Passive — RISE, but with a smaller infra-red/white light capable search-light and passive night vision equipment. USMC M60A1 RISE Passives were outfitted with explosive reactive armor (ERA) in the late 1980s.
M60A2 at the American Armored Foundation Museum in Danville, Virginia, July 2006.
M60A1E1

M60A1E2/M60A2 — Turret design finalized, giving the distinctive «starship» look. A variant was tested with a remote controlled 20 mm cannon as well.

— Developmental test vehicles fitted with the 152 mm M162 gun-missile launchers.

M60A1E3 — prototype, M60A1E2 fitted with 105 mm gun.
M60A1E4 — Experimental type with remote control weapons.
M60A3 — M60A1 fitted with a laser rangefinder, M21 solid state ballistic computer, and a crosswind sensor.
M60A3 TTS main battle tank of the Turkish Army at the IDEF'07 Show, Ankara, Turkey.
M60 Super/AX — Uparmored versions with minor improvements. Main version awas also featured no optical rangefinder.
M60-2000/120S — M60/Abrams hybrid vehicle developed by General Dynamics Land Division. Not adopted by the United States military. First customers were Turkey and Egypt that eventually refused the upgrade.
Specialized

A remotely controlled Panther armored mine clearing vehicle leads a column down a road in Bosnia and Herzegovina, May 16, 1996.
M60A1 AVLB — Armored Vehicle Launched Bridge, 60-foot (18 m) scissors bridge on M60A1 chassis.
M60 AVLM — Armored Vehicle Launched MICLIC (Mine-Clearing Line Charge), modified AVLB with up to 2 MICLIC on M60 chassis.
M60 Panther — M60 modified into a remotely controlled mine clearing tank.
M728 CEV

M728A1 — Upgraded version of the M728 CEV.

— M60A1-based Combat Engineer Vehicle fitted with a folding A-frame crane and winch attached to the front of the turret, and an M135 165mm demolition gun. Commonly fitted with the D7 bulldozer blade, or a mine-clearing equipment.
Additional equipment:
M9 — Bulldozer and earthmoving equipment for the M60.
International

M60T — highly upgraded version of the M60A1 which is designed for the MBT modernization program of the Turkish Army. It features a new 120mm smoothbore gun, electric stabilization system, new fire control system, and new armor package. M60T is also known as Sabra Mk.III.
E-60

E-60 — basically unmodified main production M60
E-60A

E-60A Dozer — version with M9 bulldozer kit installed

— basically unmodified M60A1

E-60B — basically unmodified M60A3

Egyptian variants — M60A3 tanks in Egyptian service are upgraded with an improved diesel engine of 1,080 hp (810 kW) output, modern fire control & ballistics computers, infrared devices, modern laser range-finders, and added armor including reactive armor & better suspension. A further conversion to the M60A3 is scheduled between 2009 and 2012 to about 1000 tanks out of the current fleet of 1700, to replace the current turret with the M1A1 turret with a major uparmoring of the chassis and replace the transmission and suspension systems with a better one to suit the added weight of the tank. Armor plating will be covering the front, back and the side skirts. A German 1,500 hp (1,100 kW) diesel engine will be replacing the current one, and the main armament will be the 120 mm smooth bore found on the M1A1. This will eventually increase the weight of the tank to 65 tons.
VLPD 26/70E — Spanish Army bridgelayer based on the M60 with «Leguan bridge system».
Israeli variants — Many of the Israeli M60's have been upgraded with additional reactive or passive armor, drastically improving their armor protection. These uparmored versions are called Magach 6 / Magach 7.
M60 Phoenix-Jordanian upgrade,being carried out by King Abdullah II Design And Development Bureau. Upgrade includes shoot-on-move capabilities,increased firepower (with RUAG 120mm smoothbore gun) and armor protection scheme upgrade.
General info
Survivability and armour
Armourfront / side / back
Hull93 / 74 / 41
Turret105 / 97 / 50
Crew4 people
Visibility152 %
Armour type:
Cast homogeneous armour
Rolled homogeneous armour (Rear roof, Rear)
Armour
Front (Slope Angle)
Sides
Rear
Roof
Hull
93 mm (65°) Front Glacis 143 mm (55°) Lower Glacis
74 mm
41 mm
20 mm
Turret
127 mm Turret front 152 mm Gun Mantlet
100 mm — 50.8 mm
50.8 mm
24 mm
Armour
Front
Sides
Roof
Cupola
35 mm
25.4 mm
25.4 mm
Notes:
Suspension wheels are 20 mm thick and tracks are 30 mm thick.
Mobility
Speedforward / back
AB53 / 13 km/h
RB and SB48 / 12 km/h
Number of gears5 forward
2 back
Weight46.2 t
Engine power
AB1 431 hp
RB and SB750 hp
Power-to-weight ratio
AB31.0 hp/t
RB and SB16.2 hp/t
Game Mode
Max Speed (km/h)
Weight (tons)
Engine power (horsepower)
Power-to-weight ratio (hp/ton)
Forward
Reverse
Stock
Upgraded
Stock
Upgraded
Arcade
53
13
46.2
1,162
1431
25.15
30.97
Realistic
48
12
663
750
14.35
16.23
Modifications and economy
Repair costBasic → Reference
AB3 840 → 5 406
RB3 640 → 5 125
SB9 340 → 13 150
Total cost of modifications129 800
215 500
Talisman cost2 300
Crew training120 000
Experts420 000
Aces1 400
Research Aces830 000
Reward for battleAB / RB / SB
110 / 170 / 210 %
208 / 208 / 208 %
Modifications
Mobility
Protection
Firepower

Tracks

Research:
9 000

Cost:
14 000

300

Suspension

Research:
6 100

Cost:
9 700

210

Brake System

Research:
6 100

Cost:
9 700

210

Filters

Research:
6 700

Cost:
11 000

230

Transmission

Research:
8 800

Cost:
14 000

300

Engine

Research:
8 800

Cost:
14 000

300

Parts

Research:
5 900

Cost:
14 000

300

FPE

Research:
4 000

Cost:
9 700

210

Crew Replenishment

Research:
6 700

Cost:
11 000

230

Horizontal Drive

Research:
9 000

Cost:
14 000

300

Adjustment of Fire

Research:
6 100

Cost:
9 700

210

105mm_usa_HESH_ammo_pack

Research:
6 100

Cost:
9 700

210

Elevation Mechanism

Research:
6 700

Cost:
11 000

230

105mm_us_M416_Smoke_ammo_pack

Research:
6 700

Cost:
11 000

230

NVD

Research:
6 700

Cost:
11 000

230

Artillery Support

Research:
8 800

Cost:
14 000

300

105mm_usa_HEAT_FS_ammo_pack

Research:
8 800

Cost:
14 000

300

Rangefinder

Research:
8 800

Cost:
14 000

300
After researching Parts and FPE, it is recommended to focus on reaching the M456 HEATFS shell, which will allow the player to capitalize on the M60's excellent gun. After that, it is recommended to research mobility modifications.
M60E4 Machine Gun
M60E4 machine gun — 7.62x51mm NATO
M60E4 machine gun — 7.62x51mm NATO
Improved M60E3 with improved internals, a new front pistol grip/handguard and a redesigned gas system.
Film

| Title | Actor | Character | Note | Date |
| --- | --- | --- | --- | --- |
| Dawn of the Dead | Zack Snyder | Commando | | 2004 |
| Blade: Trinity | Paul Levesque | Jarko Grimwood | | 2004 |
Video Games

| Game Title | Appears as | Mods | Notation | Release Date |
| --- | --- | --- | --- | --- |
| Ghost Recon Advanced Warfighter | | | Xbox 360 only | 2006 |
| Ghost Recon Advanced Warfighter 2 | | | Xbox 360 only | 2007 |
| ArmA II | | | Available in the Operation Arrowhead expansion | 2010 |
| Counter-Strike Online | | | | 2010 |
| State of Decay | «M60E4» | Railed handguard | | 2013 |
| Far Cry 5 | «M60» | Missing foregrip | | 2018 |